IaaS, PaaS and SaaS: the structure, the differences and the Cloud professional
IaaS, PaaS and SaaS: the structure, the differences and the Cloud professional
March 16, 2021
Our consultant Paulo, Infrastructure Engineer, works daily on the Cloud and now shows us what is behind each model and what the roles of a Systems Administrator are, including his primary and additional responsibilities:
"It is quite common to see the acronyms IaaS, PaaS and SaaS. However, it is a topic that still raises doubts, even for technology professionals and mainly for people who are not experts in the IT world. To answer all the questions, I present a pyramid that shows exactly the differences between these models as follows: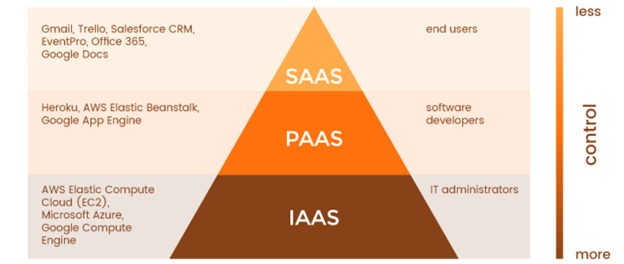 IaaS replaces internal infrastructure such as servers, network or storage. PaaS is about what goes on within the servers, that is, web servers, programming language interpreters, compilers, etc. Finally, SaaS replaces software that is created and executed as a result of what is done with the platform such as email services, project management, CRM, etc.
What is a Cloud Systems Administrator?
A Cloud Systems Administrator is responsible for working in a mixed Windows and Unix/Linux software environment. The person in this role is responsible to administer the infrastructure services in Cloud context, leading, monitoring and maintaining a multi-user computing environment according to the organizational requirements. To do this, you must have a strong technical knowledge of virtual machines, storage and networks (IaaS). This professional will have to develop, configure, implement and manage the systems that make up the respective Cloud platform, helping to configure systems in the public or private Cloud.
Monitoring and changing systems, according to the prescribed methodology are responsibilities also included in this role. The Systems Administrator is the one who establishes and executes actions in the Cloud (according to the specific details and parameters), selects suppliers (keeping in mind the company requirements), and implements cost-effective systems that will also meet the technical requirements of the organization. It is very important that a cloud systems professional has good knowledge of Operating Systems, Active Directory, IIS, SQL Server, Azure, AWS, GCP and other technologies based on Windows and Unix/Linux. It is also relevant that you have the ability to configure virtual machines (VMs), Storage and Networks/Security.
A Cloud Systems Administrator works in coordination with the IT department in order to develop and support Cloud, Windows or Unix/Linux infrastructure. Generally provides technical assistance, resolves operational problems and assists in the Cloud service administration and server environment mentioned above. Here are some of the additional responsibilities which fall under the scope of your work:
– Install and troubleshoot:
The professional installs and configures the operating system on Cloud IaaS providers and is also the right person to troubleshoot and provide any assistance with system problems. It is part of its role to analyze the network configuration and the systems security, in order to make sure they are up to date and working correctly, while also administering and updating the operating systems.
– Implement and integrate:
This technician usually monitors and analyzes the systems resources and performance. Compare, evaluate and implement new technologies while integrating systems into the computing environment. It is also his responsibility to document the systems infrastructure for the organization's convenience.
– Security and strategies:
The Cloud Systems Administrator must provide all necessary assistance to the Cloud servers, including security settings and troubleshooting. It also helps to maintain the organization's security strategies, policies and procedures.
The role of system administrators has quite evolved to incorporate the growing use of cloud computing, which plays an important role in the technological evolution of companies."
Paulo Ferreira – Senior IT Consultant